2023 10th International Conference on Bioinformatics Research and Applications (ICBRA 2023) will be held in Barcelona, Spain during September 22-24, 2023. The ICBRA 2023 Committee invites you to submit papers related to Bioinformatics Research and Applications. More topics can be found from "Call For Paper".
Paper Template
Please format the papers according to the following paper template.
1. Paper should be within 5-8 pages in double columns including all the figures, tables and references.
2. English is the official language.
3. Submitted papers should be original and have not been submitted to any other conferences or journals. ICBRA 2023 is utterly intolerant of plagiarism.
Abstract Template
For Presentation only, please format the abstract according to the following abstract template.
Publication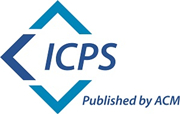 Accepted and registered papers of ICBRA 2023 will be published in International Conference Proceedings by ACM (ISBN: 979-8-4007-0815-2), which will be archived in ACM Digital Library, indexed by Ei Compendex and Scopus, and submitted to be reviewed by Thomson Reuters Conference Proceedings Citation Index (ISI Web of Science). It's required that at least one author should properly present the work in the conference.
Peer Review Process
1. First preliminary review of the editor for the format and grammar. 2. Second peer-review process performed by 2-3 international reviewers in related fields. 3. Review result will be sent to the authors and revised papers will be accepted. 4. Multiple submissions and plagiarism will not be accepted.
One Best Oral/Poster Presentation will be selected from each session and the Award will be announced at the end of each session.
Submission Methods
1. Full Paper (Presentation and Publication)
Accepted full paper will be invited to give the oral presentation at the conference and be published in the conference proceedings.

2. Abstract (Presentation only)
Accepted abstract will be invited to give the oral presentation at the conference, the abstract will not be published.

Please log in the Electronic Submission System (.doc/.pdf) or conference email box: icbra-info@cbees.net (.doc/.pdf) to submit your full paper or abstract. Paper ID will be told within 2 working days.

ICBRA 2023 official website is online and the paper submission system is opened.

ICBRA 2022 held successfully online with the participants from all over the world.

Prof. Huiru Zheng from Ulster University, UK will deliver a Keynote Speech in ICBRA 2022.